STL VETERANS HOME ASSISTANCE LEAGUE – STLVHAL
The St. Louis Veterans Home is a nursing care facility used solely for those who have served in the United States military.  It is here that Missouri's Veterans are passionately and lovingly taken care of through home cooked meals, activities paired with their interests, safe transportation to doctor's appointments and social activities, top-notch medical care, and anything else they may need to enjoy life after the unique dedication and sacrifice they've given to our nation.  The STL Veterans Home Assistance League, referred to as the STLVHAL, is honored to serve the veterans of this home by providing financial support for recreation and activities that enhance the quality of life of the Veterans who have served.  The Assistance League is funded by generous donations from friends, relatives, corporations, and organizations who care deeply about our veterans.
WORKING ON THE HOME
The STL Veterans Home is currently in the process of complying with the national Veteran Home model of providing all single-resident rooms, complete with private bathrooms. In order to accommodate our existing resident load, we are slowly reducing our population through normal attrition before systematic renovation begins. Final design of this $10.5M project was completed in December 2018.
Groundbreaking ceremonies were held on 17 May 2019 by the contractor, C. Rallo Contracting Co. Inc, of St. Louis. During this transition of going from a 300 bed facility with double room occupancy (200 sq. ft.) to approximately 188 private 250 sq. ft. suites (with one or two as double rooms for married veterans), we expect minimal impact to remaining residents while construction occurs on revolving, vacant wings of the facility.
The first two units in the B200 and B300 wings were completed in January, 2020, and veterans took occupancy of their new rooms in February. Renovation is now underway in the B400 and B500 wings.
COVID UPDATE – ALL RENOVATION IS ON HOLD PENDING COVID RESOLUTION!
HOW WE GET AROUND
The kneeling buses, with a fold out ramp, make wheelchair access a breeze!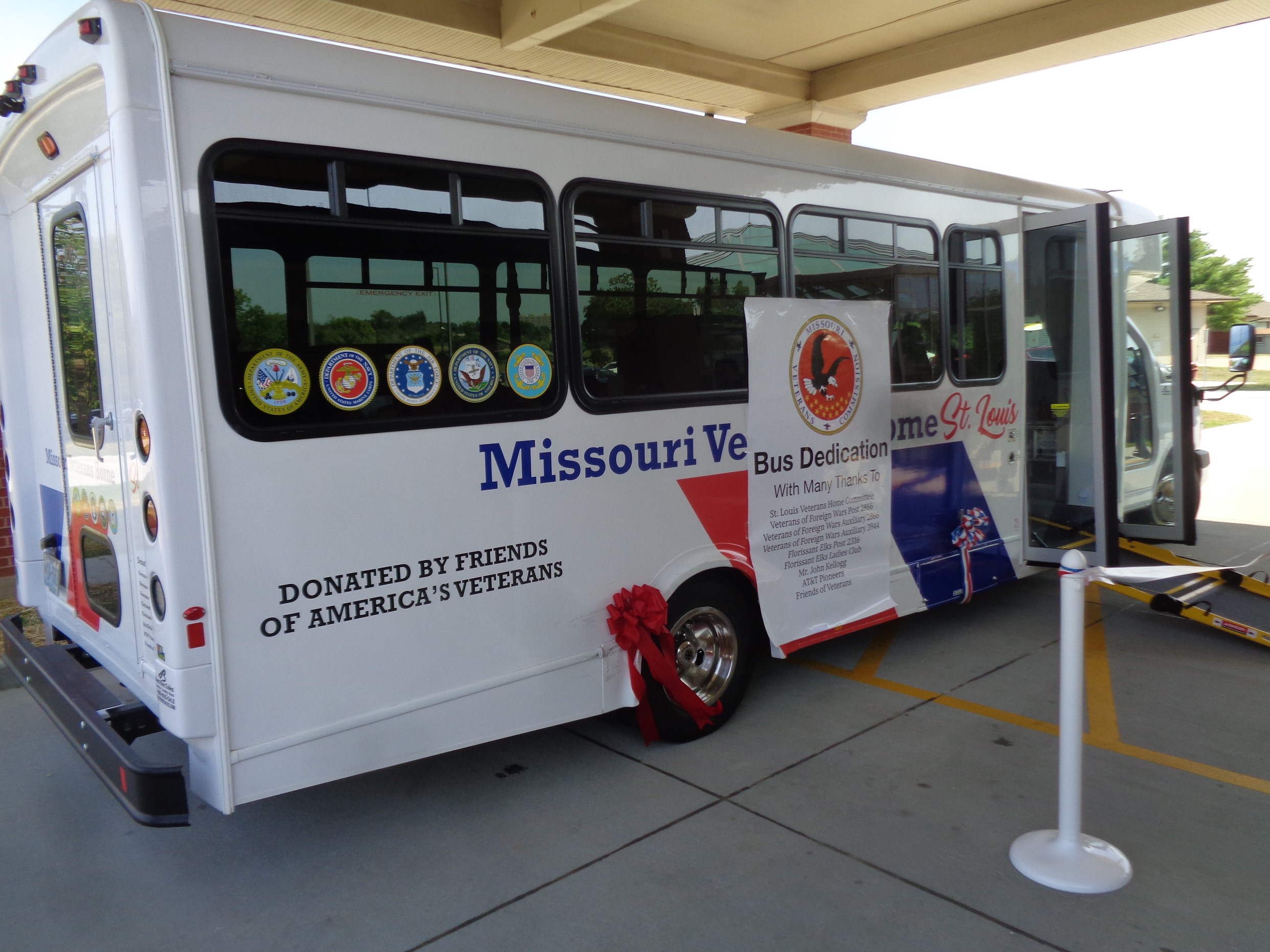 The Assistance League has purchased vehicles that enable our Veterans to attend local events such as parades, festivals, dining out, shopping, and sporting events.  In addition, funds raised by the Assistance League enable televisions, outdoor furniture, computers, special meals, holiday activities, and multiple media subscriptions.  The local citizens that make up the Assistance League are all volunteers, who spend their time fundraising to help the nation's finest enjoy a wonderful quality of life.  The Veterans Home, in conjunction with the STLVHAL, are here to serve those who have served.